Perishable Goods Transportation Logistics
Keeping perishable goods at the right temperature is essential for ensuring safety and quality, and the cold chain
is responsible for this important job
. People expect the foods they buy – such as fruits, vegetables, seafood, meat, and dairy products – to have an appetizing appearance and be safe to eat. When this is neglected, food could suffer from problems like discoloration, textural degradation, microbial growth and bruising – problems that could prove rather costly for retailers.
The transportation of perishable goods involves refrigerated units, the energy needed to run them, and load integrity requirements, which is why cold chain products typically bear much higher transportation costs than their standard counterparts.
Transportation is just one link in the chain, however. Interim storage in distribution centers is just as important for ensuring the quality of foods, flowers, and pharmaceuticals. Refrigerators are typically used to keep these products at low temperatures that slow the rate of chemical changes and microorganism growth.
Those who can master this and strike the perfect balance between transporting these goods safely and keeping costs under control stand to benefit greatly. As economic specialization and living standards continue to grow, so will the demand for perishable good logistics.
The cold chain equipment used in transportation vehicles might include isothermal equipment boasting isolated doors, walls, floors and ceilings to limit the exchange of heat between the van's interior and exterior. Refrigerated equipment uses non-mechanical cold sources to keep foods cold, while freezers use cold production mechanisms to keep food at even lower temperatures.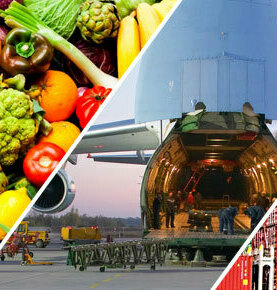 In the Air, On Land, and Sea
On land, ice or dry ice might be used, while rail transportation tends to involve dry ice and refrigerated systems. When perishable goods must be transported by sea, refrigerated ships with air circulation systems are used, along with refrigerated containers.
The World Cargo Egypt team member is reviewing your freight quote request and working hard to secure the best option at the lowest possible rate.  During

business hours

, the expected response time is 5-15 minutes. If you requested a quote after-hours, we'll contact you first thing the following business day. Please make sure to check your spam folder if you do not get a call or see an email from us soon!