Complex Global Logistics, Simplified.
At World Cargo Egypt we focus on two key factors in our customs services – a total commitment to compliance and an optimized supply chain. Knowledgeable in all aspects of customs services, we're always here to advise you. Our careful classification of goods and firsthand knowledge of global customs programs puts you one step ahead of the rapidly changing international trade and compliance landscape.
A Commitment to Compliance
The last several years have seen various developments. We believe in the continuing education of both our staff and our customers to minimize risk and future potential costs of non-compliance. Our brokerage team undergoes regular training and internal audits to insure we are fully up to date on the evolving framework of all customs regulations and requirements. Always a critical component of a supply chain, we make compliance a top priority.
An Optimized Supply Chain
In addition to compliance, we recognize the urgent need for an optimized supply chain – including the prompt release of goods. As your partner, our goal is to bring your goods to market safely, securely and in compliance with all government regulations. Time is of the essence – from parts needed for production to finished goods for sale. If you can't ship – you can't do business. Our complex infrastructure keeps your business running smoothly.
Single Carrier Accountability
Our philosophy is simple – to merge the transportation and clearance functions to promote "single carrier accountability" to you, our valued customer. We embrace the role of both transport company and broker for direct control of the documentation starting at the origin. Electronic transmission is key for avoiding lost time that would otherwise be spent waiting for or looking for documents. We're diligent in our commitment to deliver the industry's most efficient customs solutions.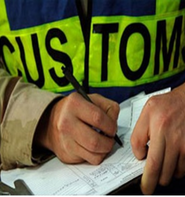 The World Cargo Egypt team member is reviewing your freight quote request and working hard to secure the best option at the lowest possible rate.  During

business hours

, the expected response time is 5-15 minutes. If you requested a quote after-hours, we'll contact you first thing the following business day. Please make sure to check your spam folder if you do not get a call or see an email from us soon!